Book Description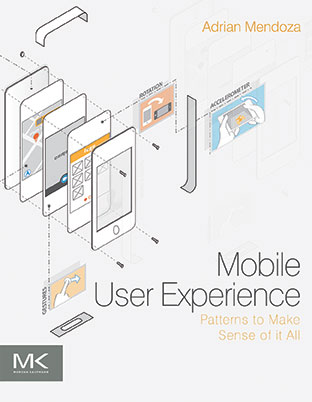 THIS GUIDE TO LEARNING MOBILE USER EXPERIENCE PROVIDES YOU WITH THE THEORETICAL CONCEPTS AND PRACTICAL HANDS-ON APPLICATION.
Whether you're a user experience designer, developer, or just interested in mobile;this is your must-have resource to learning the theoretical and practical concepts of Mobile UX. First, you'll learn how to communicate Mobile UX visually through the use of flows and wireframes. From there, learn how to apply some of the most common mobile patterns to real-world scenarios. Finally, you'll understand how to prototype and use these patterns to create mobile websites and apps. Read More…
Buy the Paperback Buy the E-Book
Quotes About the Book
Very few people have the impressive experience Adrian has with the evolution of mobile devices and designing user experiences for them. In this book, he does a masterful job of distilling this experience into readable and thought provoking insights and best practices. I would highly recommend this book for anyone at any level working in the field today.
- Doug Bolin, Associate Director, User Experience Design at Digitas
The greatness of your book lies on the simplicity you achieved in presenting the content, putting all those bits and pieces together to make the overall picture fluid and easy to read from the beginning till the end. These concepts, for how simple they might look, are a foundation that often is not properly taken care, leading to huge implementation disasters…Thank you for writing this book.
- Marco Pavan, Start-Up Entrepreneur
Photographs of the Book